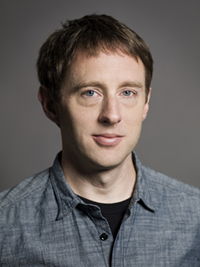 Kevin Poulsen is a former computer hacker, whose best known hack involved penetrating telephone company computers in the early 1990s to win radio station phone-in contests. By taking over all the phone lines leading to Los Angeles radio stations, he was able to guarantee that he would be the proper-numbered caller to win, for example, $20,000 in cash, and a Porsche 944 S2 Cabriolet.
When the FBI started pursuing Poulsen, he went underground as a fugitive. He was featured on NBC's Unsolved Mysteries, and was finally arrested in April 1991 after 18 months on the run. He pleaded guilty to computer fraud and served a little over  5 years in prison. At the time, it was the longest U.S. sentence ever given for hacking.
Following his release from prison Poulsen was briefly barred from using computers. Reformed, but still possessed of the curiosity that contributed to his hacking when he was younger, he became a journalist. His first magazine feature ran in WIRED in 1998, and covered computer programmers who were driven to survivalist tactics by fear of the looming Y2K bug.
When Poulsen's court supervision expired, he joined a California-based web start-up called SecurityFocus as editorial director in 2000, and began reporting security and hacking news.  Poulsen repeatedly broke stories of national importance that were picked up by the mainstream press:  a computer intrusion at a U.S. hospital that, for the first time, breached patient medical records ; hackers "war driving" for open Wi-Fi networks;  a computer virus crippling a safety system at a nuclear power plant in Ohio; a southern California hacker's successful penetration of a Secret Service agent's PDA,  and the attendant theft of confidential agency files.
Poulsen left SecurityFocus in 2005 and joined WIRED. In a computer-assisted reporting effort in 2006, Poulsen wrote software that scoured MySpace for registered sex offenders, identifying hundreds. The story resulted in the arrest of an active pedophile,   led to significant policy changes at MySpace and spawned federal legislation. In 2007, Poulsen's reporting revealed that the FBI had been using a custom spyware program, called a CIPAV, to infect the computers of criminal suspects. In June 2010, Poulsen and a co-writer broke the news that the government had secretly arrested a young  Army intelligence analyst in Iraq on suspicion of leaking hundreds of thousands of classified documents to the secret-spilling website WikiLeaks.
Poulsen is a contributing editor at WIRED magazine and was the founding editor of WIRED's Threat Level blog, which won the 2008 Knight-Batten Award for Innovation in Journalism, and the 2010 MIN award for best blog. Poulsen worked with the late Aaron Swartz to design and develop
SecureDrop, an open-source software platform for secure communication between journalists and sources, now used at over a dozen news organizations including the New Yorker and the Washington Post.  He lives in San Francisco with his wife and two children.